Stocking and Management Reports: Dam and River Fishing
Stonecutters Lodge is proud of excellent fly-fishing facilities and for the enjoyment of our fishermen ensure excellent stocking of our dams and river. Reputable hatcheries in the area are used on a regular basis. To supplement the wild trout that are breeding in the river, the river is also well-stocked. Catch and release of uninjured fish is permitted. All fish caught in the river are to be reeased. In order to facilitate our stocking procedures, all catches are to be reported in the fishing catch record book.
STOCKING PROCEDURES AT STONECUTTERS DULLSTROOM, MPUMALANGA
Management and stocking of the waters is managed by the owners of the Lodge and is based on various factors:
Seasonal: In the very hot months from December to February no stocking is done unless we have a cool period. Trout are very heat sensitive and even a few degrees of raised temperature will cause the fish to die. Stocking is mainly undertaken between March and November. Stocking of the river is only feasible once the torrential summer rains have abated.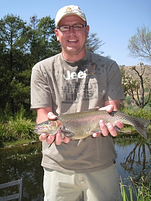 Usage: Stocking also depends on the number of fly-fisherman using the waters and the catch reports are taken into consideration. Many fisherman release the trout back to the waters- CAR is compulsory in the river unless the fish is injured. Trout fingerlings are seen in the river and wild trout are caught regularly.
Feeding: The trout feed naturally at Stonecutters. Supplementary feeding (on floating pellets once a week) occurs, when the natural food is scarce and the trout that are caught (although healthy) are long and thin. The supplementary feeding only happens in the winter months.
2/11/2018 160 Trout average weight 335 gm stocked: 100 in river plus 60 in dams, stocked by Marabou Trout. Due to high Spring temperatures and minimal rain it was safer to stock smaller rainbows. Hopefully the rains will come and the increased river flow will enable larger Trout to be stocked in the river. Still plenty of large Trout to be caught in both dams.
16/08/2018 60 Trout weighing between 800g and 1.2 kgs, Marabou Trout- stocked both dams. Spawning seems to be over.
18/6/2018: 60 Trout weighing between 600g and 1.2 kgs - stocked in the 2 dams. These larger trout will no doubt be more difficult to catch due to spawning and fly selection and techniques will be important.
1/6/2018 : Stocking was delayed due to repairs to the dam wall. The water levels were dropped by 2 metres which meant waiting for really cold weather so that the Trout in the dams would survive the process. An opportunity was created to remove perimeter reed using the TLB. 113 Rainbow trout was stocked in river and dams (average weight 450 g) These sexually immature fish will not be affected by spawning. It was interesting that the Fish Eagle caught a 1 kg Trout whilst the water was at a lower level and had difficulty taking off with it.
20/3/2018 : 170 fish Total. 100 fish average weight 616 gm and 70 fish average weight 1 kg. Stocked by Marabou Trout.