Fly-fishing for trout near Dullstroom in river or dams..is a great experience!
FLY-FISHING: The Stonecutter's waters (two dams and 3 km of river) are fully managed and this, coupled with a generous restocking programme, ensures excellent fishing.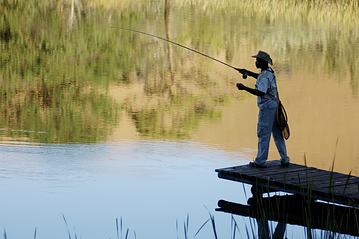 'Catch and Release' is encouraged for all river fish and trout caught and taken from the dams are charged for. Only fly-fishing equipment and methods are permitted. Day fishing is not permitted and the waters are only available to guests that stay over. There are no rod fees charged but trout taken for the pot will be charged for per kilo.
FLY-fISHING AS A TEAM BUILD : There is a selection of team-building activities to choose from but with the excellent waters available at the lodge, a fly-fishing clinic with expert tuition can be arranged including a competition with prizes. Your team will learn about "the fine art of fly-fishing" and enjoy a braai in the Boma right at the dams.
Stonecutters Lodge is a member of FOSAF and abides by the FOSAF ethics and code of conduct assuring you a great fly-fishing experience.